I offer a standard range of materials for the Bespoke Signage, all of which are custom made to order and personalised as required. The materials within this range includes Acrylic, Chalkboard and Wood. Details for each of these can be found below, along with more information with regards to the complete custom service - sign writing and personalising pieces you have sourced.
As well as the Bespoke Signage, I also design and create laser cut pieces, including custom Flower Wall Lettering and cake toppers too. Please click HERE to find out more about those.
Acrylic was a huge trend throughout the last year and is continuing into 2019. I have seen the popular choice of clear acrylic shifting more towards the frosted finish, but I am still offering both options, along with solid colour acrylics too.
Acrylic designs work perfectly when looking for a modern, sleek design of signage and your bespoke pieces will be sure to stand out and become a real 'wow factor' at your wedding. The clear and frosted pieces easily compliment existing wedding schemes and the plans you already have in place.
We do recommend the vinyl finish for the acrylic. It offers a crisp, clean method for lettering that compliments the acrylic perfectly.
Each piece is completed based on the design that we have worked to create together. From place names to table plans and everything in between, be on trend with this versatile style.
Click HERE to find out more!
Chalkboards work especially well to compliment rustic and vintage style weddings.
All of the boards are hand painted, allowing me to give you a range of different sizes to choose from. Each piece is hand written and finished with a fine layer of varnish helping to protect it against the weather and fingerprints!
Vinyl detail is also available if you would like a bolder finish, or if you would like the signage to be completed in a specific font.
I will work with you to design pieces to compliment your wedding scheme and chosen decor for your special day.
My standard range of sizes include evrything from place names to large table plans, but I can of course make custom sizes also, as all of our items are made to order, based on your individual requirements.
Click HERE to learn more.
The Wooden range is ever evolving and growing as I find more and more materials and sizes to personalise.
My current range includes Pine, Ply and Reclaimed Pallet Wood. The pine works perfectly if you are looking for the wood to have a little more 'character' in it's finish. The ply then comes into its own when you need a slightly plainer finish. The Pallet style provides a quirky, rustic and completely unique look.
I offer a choice of handwritten, vinyl, wire or acrylic lettering detail on the wooden pieces, making this range very versatile and extremely complimentary to your venue and overall scheme.
Please click HERE to find out more.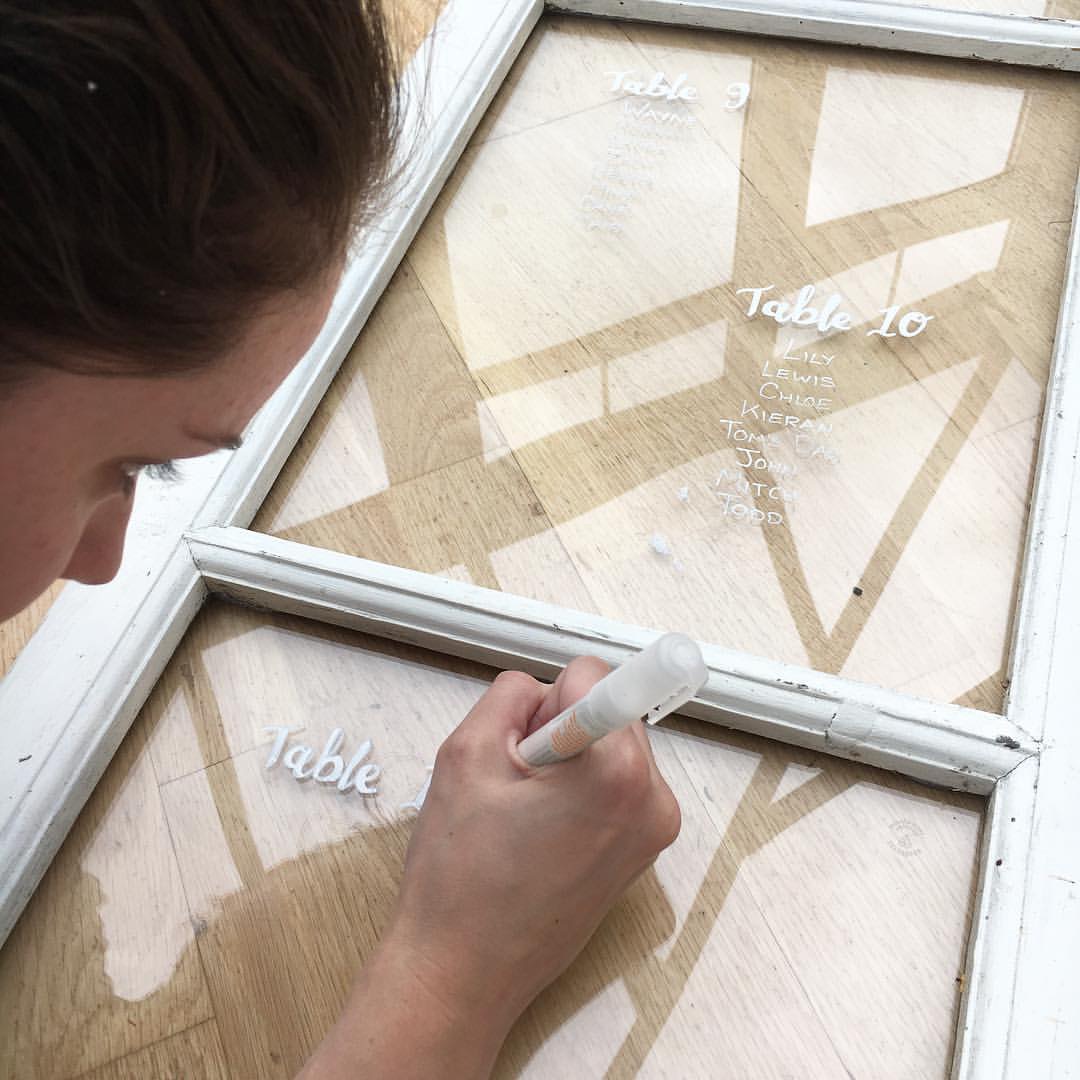 If you have sourced pieces you would like sign written or personalised for you to use within your wedding, please do send me the details and I will be more than happy to provide you with a quotation for to complete.
Large mirrors work very well for table plans and welcome signs, or more quirky items such as sash windows and pallets make great statement pieces within your style too.
You can send me some more information about your items HERE.