MY acrylic range is available in a variety of finishes, including clear, frosted and coloured.
I love how the vinyl looks on all of the acrylic designs, complimenting the crisp, clean finish the acrylic naturally portrays. This method can be displayed outside making it a great choice for a welcome board, greeting your guests as they arrive at your venue. You can then continue with the acrylic theme throughout your day with table names/numbers, place settings and all your signage requirements.
When choosing your acrylic style, you need to consider wheRE the item is going to be placed within your venue. If clear acrylic has a very busy background, the text can sometimes get a little lost. If this is the case, the frosted in a wonderful alternative, or of course, a solid colour would work perfectly too.
If clear acrylic is being used against a less busy background, we find that the black or white vinyl usually stands out more than other colours.
Your design can also be completed with either black or white hand written detail, providing a softer look to the overall finish.
There are many ways to display your bespoke acrylic signage. Why not use it to replace the glass from a vintage frame creating a wonderful table plan design, or use easels to present the signage around your venue.
Clear Acrylic with Vinyl detail
Place names - from £1.50 each
A6 table numbers - from £5 each
A6 table names - from £5 each
A5 signage - from £10
A4 signage - from £20
A3 signage - from £40
60x40cm signage - from £60
60x40cm table plans - from £80
100x60cm signage - from £120
100x60cm table plans - from £160
Other sizes and shapes upon request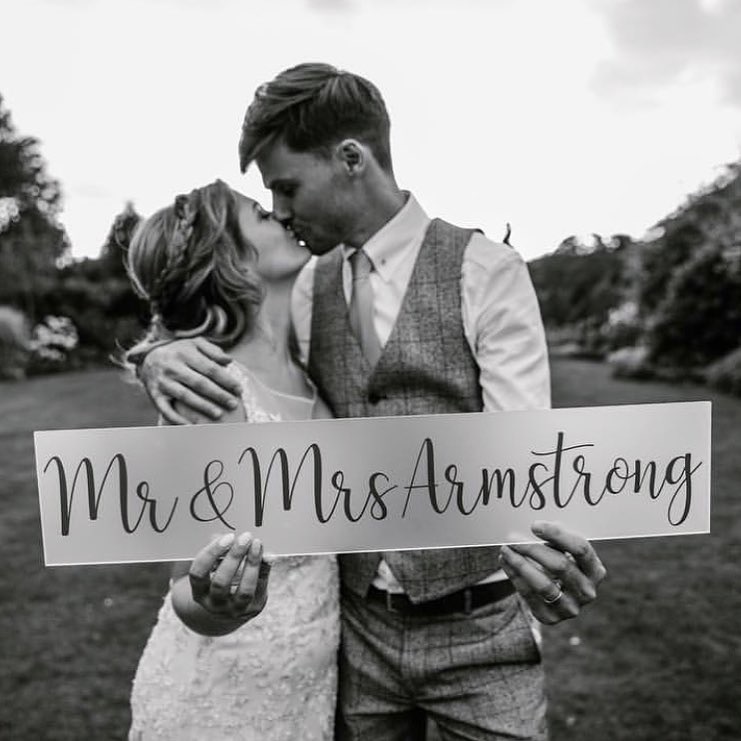 Frosted or Painted Back Acrylic with Vinyl detail
Place names - from £2 each
A6 table numbers - from £6 each
A6 table names - from £6 each
A5 signage - from £12.50
A4 signage - from £25
A3 signage - from £50
60x40cm signage - from £80
60x40cm table plans - from £100
100x60cm signage - from £160
100x60cm table plans - from £200
Other sizes and shapes upon request